Tutorial: Startup Config 3; Custom Node Menu Entries¶
In this final part of the multi-part startup config tutorial, we will demonstrate a startup config that adds a custom entry to the node menu.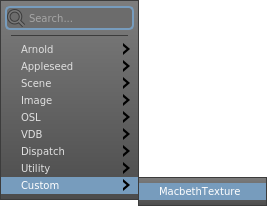 For your convenience, we've shipped Gaffer with a "MacbethTexture" reference graph. Using OSL, this reference procedurally generates a texture of a Macbeth chart on-the-fly, which should come in handy in lookdev and lighting graphs. Our custom node menu entry will insert a Reference node, and then load this reference graph.
From a user's perspective, the node's custom icon, colour, name, and its presence in the node menu will make it appear and behave like it came from a compiled module. Since it is merely a disguised Reference node, no additional code development or compilation was actually needed to build it. Its only requirement is that the end user or system has the reference graph on disk (already fulfilled, since we will use a reference that shipped with Gaffer). In a studio context, a node menu entry like this would require the reference file to be distributed on the file system, or otherwise shared in some way.
We hope that you can use this config as a springboard for adding other custom entries to the node menu. With this solution's simplicity, TDs and artists alike can publish new nodes and add them to the menu.