Contexts
A Context is a bundle of variables provided to each operation performed by a node. Nodes need a subset of these variables to tell them which fragment of the scene or image to generate. You can add your own variables to the graph, to control the behaviour of upstream nodes.
Contexts are central to Gaffer's processing of 2D and 3D data in a graph, as well as its deferred evaluation engine. Contexts allow nodes to deal with data in small slices rather than as a whole, and generate exactly what is needed. They are the core of every node operation. Depending on the data being processed, a typical variable inside a Context is responsible for specifying one aspect of the scene or image fragment being generated, such as:
Frame number

Scene location

Image tile

Image channel
Gaffer automatically manages Contexts during processing. These are silently passed upstream, from node to node as they compute requested data. Certain nodes can also add and modify their own variables, for use in driving graph behaviour.
There is no single interface in Gaffer for manually controlling and inspecting a Context in its entirety, but nodes like NameSwitch, Spreadsheet, and Expression can add Context-dependent behaviour to graphs, and the Python API provides methods for creating and inspecting Contexts.
Nodes and Contexts
In order to provide a background for why Contexts are necessary, we should look at what kind of workload a node would be up against without them.
Let's consider a 3D scene. Keeping in mind how scenes are structured, imagine it is filled with hundreds of thousands of locations. Clearly, not every location can be processed at once. Gaffer needs a way to divide up the work to compute the locations one at a time.
This is where Contexts come in. In Gaffer, at no point does a node operate on the entire scene/image. Contexts break the scene/image down into digestible fragments, so each node only generates the parts that they were told to, while deferring the rest. Each computing thread has its own Context, so multiple threads may be processing different parts of the scene/image in parallel, greatly improving efficiency and performance.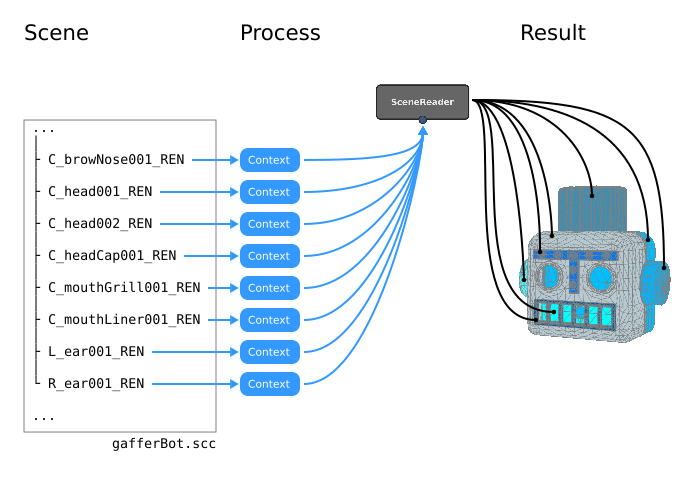 Context flow
While scene and image data flows down the graph, Contexts flow upstream.
Computation begins when a node is queried to compute a value for its output plug, by something such as a dispatcher or an editor in the interface. At the start of the computation, whatever made the request creates a Context and sets its variables to specify the target location, set, image tile, channel, etc.
The Context then passes up to any plugs that contribute to the output value. When an input plug on the queried node is connected to a plug on an upstream node, it pulls on that upstream plug to retrieve its value. If necessary, the upstream node may need to compute in turn, to produce the upstream plug's value. This pull-compute reaction occurs up through the graph until all required plug values have been calculated to create an output value for the original queried node.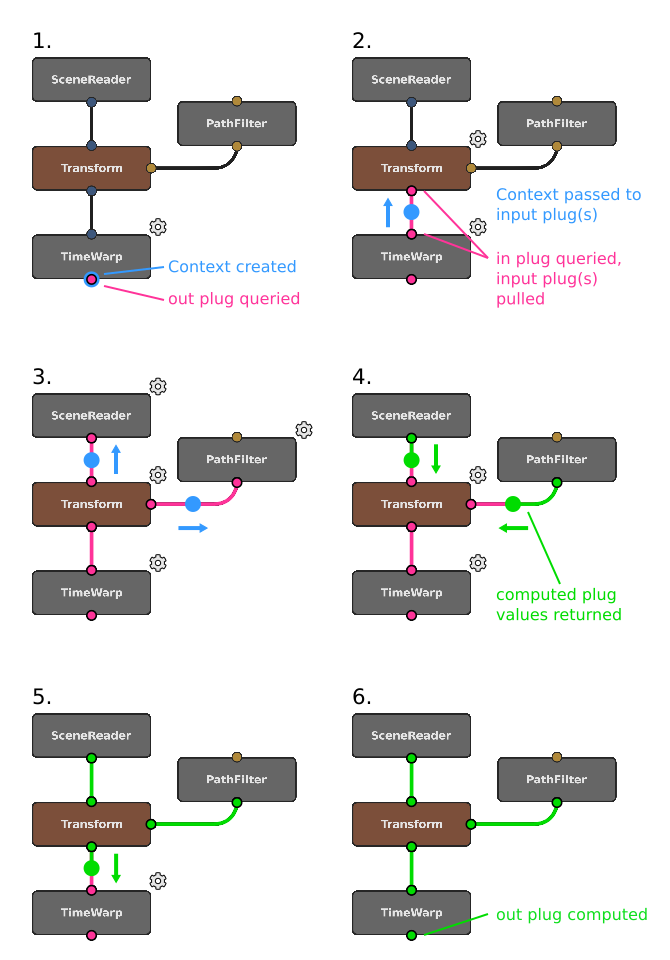 A suitable Context is created. The node's output plug is queried. The node begins computation.
The node's in plugs are computed. If connected, they pull on connected input plugs, and pass along the Context.
A chain reaction of plug value pulling and Context passing ensues.
Once the last input plugs in the chain are computed, input plugs begin delivering values to the plugs that pulled on them.
A chain reaction of plug value returning ensues.
The out plug is computed.
Some nodes modify the variables inside the Context before they pass it upstream. One example is a node that simply adds a new variable, like a CollectScenes node, which adds a variable that contains the name of the current root location being added to the scene. Another example would be a node that changes a value, such as the TimeWarp node, which can adjust the frame variable so that the upstream nodes compute for a different part of the frame range.
Context Variables
An individual variable inside a Context is called a Context Variable. Within the graph, Context Variables are a means of wielding Contexts to drive values, and can be employed to powerful effect to iterate and optimize results.
All Context Variables reside inside their Contexts, and are assignable. Any Context Variable present in a node's Context during processing can have its value expanded in an Expression node, or string plug with string substitution syntax.
There are a handful of special Context Variables that are worth noting, which we will informally refer to here as built-in Context Variables.
Built-in Context Variables
Built-in Context Variables are hard-coded variables that scene and image nodes read for specifying scene and image fragments to generate. These are the variables that allow Contexts to specify the smallest part of the scene/image at a time. They are declared and assigned values automatically by the node processes themselves.
For a full list of built-in Context Variables and their purposes, see the Context Variables reference.
For a scene computation, the most common built-in Context Variables present are:
For an image computation, the most common Context Variables present are:
frame

image:tileOrigin

image:channelName
Tip
frame and scene:path will most likely be the only built-in Context Variables that you explicitly reference in plugs.
When Contexts are passed from plug to plug in a scene network, there are two facts you should remember for scene:path:
Shader networks: To improve performance, shader networks do not support the use of scene:path, and consequently you cannot use it in string substitutions. As a workaround, you can use a CustomAttributes node to generate an attribute that varies with scene:path, and then have the shader network reference that attribute.

Globals: When scene globals are computed, the scene:path Context Variable is not present in the Context, as location paths are not relevant.
Other Context Variables
All other Context Variables must be declared and initialized, either in the graph itself or in the Gaffer app that's executing the graph. They can handle all the same value types as plug, such as string, int, float, vector, matrix, etc. These other Context Variables are often used to pass an arbitrary variable value upstream.
A Context Variable created at the root of the graph is referred to as a global Context Variable. Global Context Variables are always passed into all Contexts, regardless of which node is being executed. They are declared and initialized in the Variables tab of the Settings window (File > Settings…), and can be overridden in individual networks. For a list of the default global Context Variable names, see Global Context Variables.
Some nodes create and add Context Variables, such as ContextVariables, Wedge, CollectScenes, and CollectImages nodes. They each have at least one string plug that generates a Context Variable to vary upstream behaviour. For convenience, some of these string plugs have default variable names, but you can provide your own. For a list of the nodes with default node Context Variable names, see Node default Context Variables.
Contexts in action
Let's work through a series of practical examples of wielding Contexts in scene and image networks. Each of these modify the Context to achieve a result, but all demonstrate the same principles: Contexts start at the queried node, and flow up the graph to upstream connected plugs.